Mobile Apps Developed for Radio Stations
Mobile devices are with us everywhere we go. Make sure your station is with listeners everywhere they go. JOTA Radio Apps have all of the features needed to complement your radio station: live stream, news, weather, trivia, and more. Monetize your app with a local advertising platform that your sponsors can get behind. JOTA Radio Apps – The mobile app developed specifically for radio stations.
By the way, the app has been amazing for us. Our listeners have done nothing but rave about it and we've had a lot of fun incorporating it in to our day to day. Bravo to you and your team for providing such an amazing product!
Looking for more than just a stream and alarm clock?
Try news, weather, events, trivia, voice recorder, push notifications, and more.
Want to reach your audience even when they don't have broadcast?
Keep listeners connected with podcasts, news feeds, trivia games, and more.
How about an affordable app
designed to generate revenue?
All the features you need with an
advertising platform your reps can sell.
Would you like a powerful app builder that is also easy to use?
We'll do the heavy lifting. All you need to do is add some content.
Want an advertising platform that features your local sponsors?
You'll like the smooth sliding window with ads that include text, images, and links.
Looking for a mobile app designed for radio stations?
You've found it. JOTA Radio Apps.
Developed specifically for radio stations.
App Features Designed for Radio Stations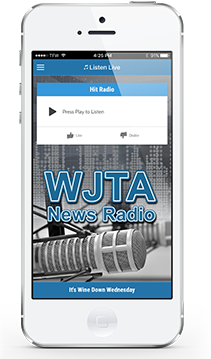 Live Stream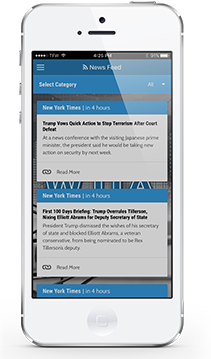 Local News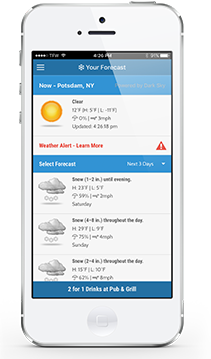 Weather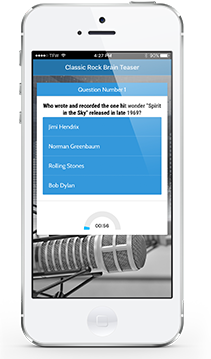 Trivia Game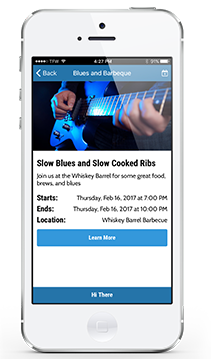 Local Events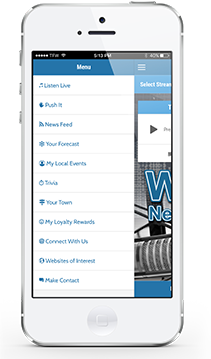 And More
We developed a mobile app specifically for radio stations that is fast, easy to use, and has a rich set of features designed to complement your on-air show. Click below to learn about at our full list of features designed for small to midsize radio stations.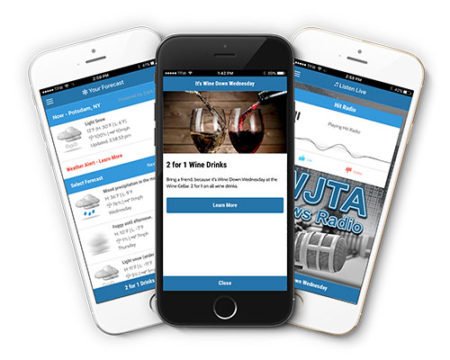 Speed
Ease of Use
Listener Engagement
Premium Radio App Builder
Our goal is to get your app published and available to listeners. We'll help you get set up, get your app compiled, and make it available for both Apple and Android devices. All you need to do is add content. Don't fret over layout, feature components, and all the other hurdles that come with typical radio app builders. Focus on what's important, your station.
One major focus with our radio app development was speed; quick and snappy features that load quickly. Our code is leaner and meaner, designed for quick load times. Most images are compiled within the app which decreases server load. Tech talk aside, the speed in which your app performs is important to the end user…. you listeners.
We begin by getting your app set up, getting it compiled, and ready to add content. Next, you'll take over with our easy to use content management system. You'll find help tours that guide you through each feature, explaining what it is and how to use it. It's that easy to build your radio app. Add content and our technology will take care of the rest.
Many radio app builders require a significant learning curve. This is why you will often see a $2,000+ design cost associated with them. We'll take the big learning curve out of the equation. Easily modify your color scheme, icons, and add new content. A few clicks will customize your app to your station's brand. Then it's time to have some fun.
Everything your listeners love about your station, can now be extended to your app. Whether your audience tunes in for the morning show, the evening drive, music, news, weather, local information, or entertainment; listeners can access everything they like about your station even without a broadcast signal. Live streaming, podcasts, news feeds, trivia games, weather, events, and more. Your radio station can now travel with listeners anywhere in the world.
Make sure listeners catch your morning show with live stream, even when they don't have an AM/FM signal. Highlight the days stories with on demand podcasts. Bring listeners in to read stories from your news feed. Promote a trivia game on-air, and send listeners to the app to post their answers. Get creative, there are so many different ways your on-air show can be extended to your app to keep listeners connected and engaged throughout the entire day.
We Developed a Mobile App Just for Radio Stations
Want to learn more? Give us a call or send a message.
We can set up a demo and walk you through the features in our radio app and our easy to use content management system.