Why Do Listeners Tune In To Your Station?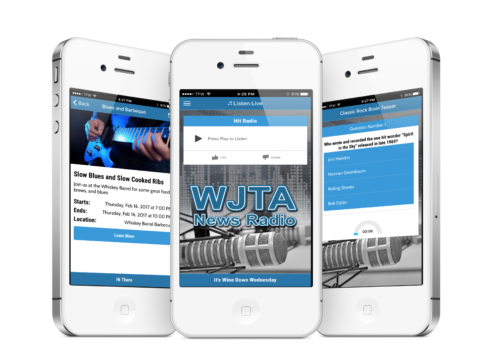 Is it the music, news, sports, local information, your on-air talent? Every station has its own voice and its own following of listeners. JOTA Radio App are designed to complement your existing show, extend your reach, and engage listeners when they aren't tuned into broadcast. We looked at what makes radio great, then built upon it. Learn more about our mobile app features designed just for radio.
Live Stream
With live streaming, your voice can be with listeners everywhere they go. This is real intrinsic value of a mobile app. Listeners can access your station almost anytime and anywhere, even through BlueTooth devices and your car.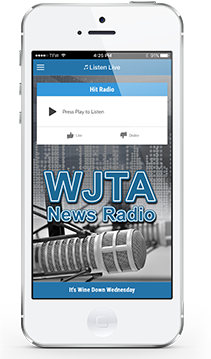 Podcasts
Think sound bytes. A great news story, an exciting sports game, a funny call in. Listeners can be a part of these great moments even if they don't catch it live on air. Throw in a preroll from one of your sponsors for added value or an upsell.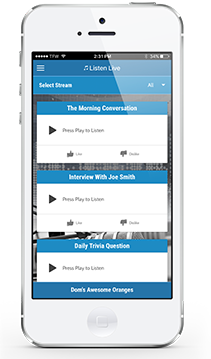 News Feeds
People consume news. Whether it be local, national, pop culture, or something else. We can connect with your RSS feed and pull in the news stories that are important to your station.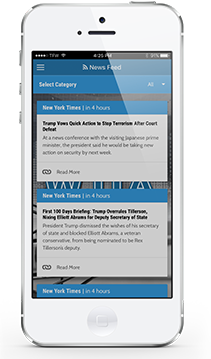 Weather
Radio has always been a trusted source for weather updates in our local regions. Our weather feature allows your audience to access their local weather anytime, anywhere.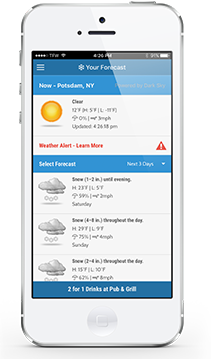 Trivia Game
Trivia has always been a fun way to interact with your listeners. Take trivia to a new level with our built in trivia game. Start your trivia game on the airwaves and extend it to your app to drive app usage and downloads.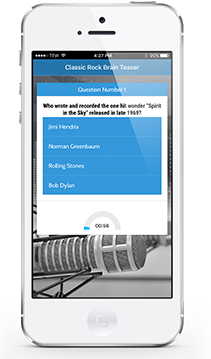 Events
Radio has always been the voice for information about local events, concerts, sports, and more. Listeners can access information at anytime, then click to add it to their device calendars.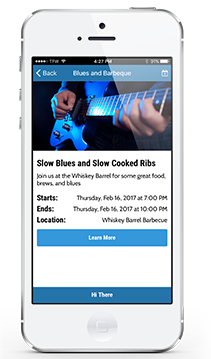 4 Contact Methods
Stay connected with your audience with four different contact methods. Listeners can call, create an audio recording, send an image, or message to your station.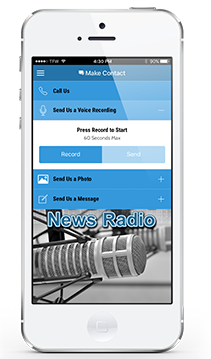 Push Notifications
Send messages directly to your listeners phone. Keep them informed of important up to date information, such as events, weather, school closings, and more. Messages are sent directly to your listener's phone.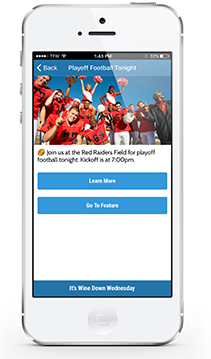 Loyalty Rewards
Add a new dimension to your stations advertising options. Create a special stamp loyalty card for one of your sponsors, that is only available within your radio app. It's a creative up sell for sponsors and a creative way to drive app downloads.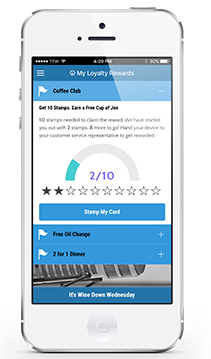 Web Links
Connect your app to your website and build an ecosystem between your different media outlets. Your app can now be a central point between your website, social media, and live on-air.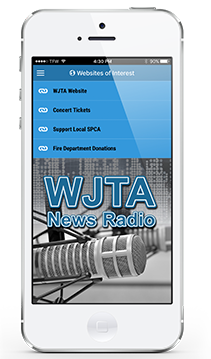 Social Connect
Radio now connects with listeners through a number of different outlets; mobile, websites, and social media.  Easily connect your social media platforms with your app, to make sure your audience can easily access all your important social information.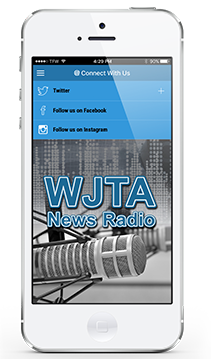 Around Town
What's going on in your town? Where do people like to go? Around town is a nice little map that you can populate with businesses, venues, and more. Each map location includes a description, one touch dialing to the listed venues, and directions to all the points listed in your map.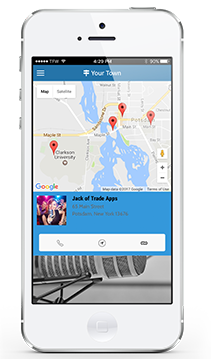 Learn About our Premium App Builder
Along with great features developed specifically for radio, you'll also find our content management system is a breeze to use.  Learn more about the JOTA Radio App CMS.